Commodity prices down by half and no end in sight to their slide
By: Charlie Howard
For the Camera
Prices tell the story in this modern farm bust
Wheat price per bushel:
2012: $7.75
2016: $3
Corn price per bushel:
2012: $6.86
2016: $3.55
Barley price per bushel:
2012: $6.73
2016: $5.25
Source: USDA's National Agriculture Statistics Service
Colorado's Eastern Plains farms have had an exhausting three years rooted in low commodity prices, dried up reservoirs and a growing inventory of crops that cannot be sold.
Grains continue to fetch roughly half of what they did just four years ago, with wheat, for instance, selling for $3 a bushel last year, less than half of the $7.75 it commanded in 2012.
Those working Boulder County's farm fields believe the industry will take another hit in 2017, and as a result some farmers say they plan to stockpile certain crops until prices rise.
"There are just some things we're not selling until things get better," said Paul Schlagel, a Boulder County man whose family has farmed outside Longmont for more than four generations.
" We're going to hold some of our crop corn in grain lockers until prices get better," said Schlagel, who grows sugar beets and barley in addition to corn.
Front Range agriculture is caught in a multi-year slump that is the worst seen in more than 30 years and the problem is playing out nationwide, agriculture experts said.
"In Colorado, there are some real similarities to the mid-80s," said Colorado State University Agricultural Economist Norman Dahlstead. " The difference is we have lower interest rates today with fewer government programs available."
The United States Department of Agriculture estimates that American farmers' incomes will drop 8.7 percent in 2017 extending the industry's slide into its fourth year.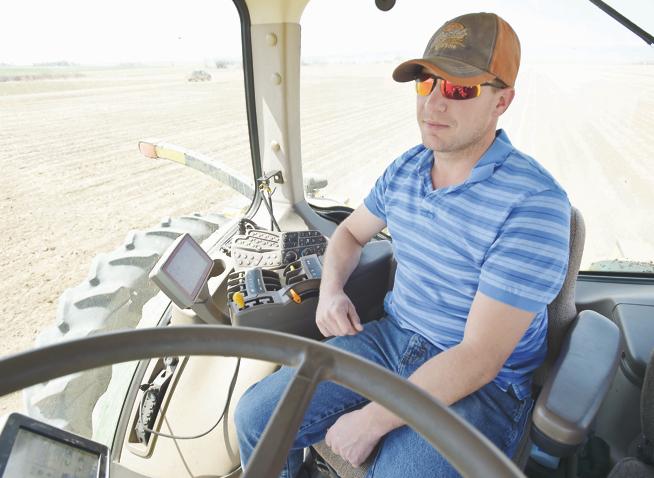 Scott Schlagel uses GPS-controlled auto steer in his John Deere tractor to plant sugar beets in a 110-acre field south of Longmont Wednesday
(Lewis Geyer / For the Camera)
Wheat, at $3 a bushel last year, was down dramatically from 2012, when prices stood at $7.75 cents per bushel. Corn, at $3.55 in 2016, was going for $6.86 per bushel in 2012 and barley, at $5.25 per bushel last year, was down 22 percent from 2012 when it was priced at $6.73.
Dr. Stephen Koontz, professor of agricultural and resource economics at Colorado State University attributes much of this stagnation in commodity markets to the strength of the dollar and a soft world economy.
"You have a world economy that is not growing that fast and a very expensive dollar that makes it difficult for farmers to export," Koontz said.
There is also a surplus of corn and wheat that is holding up the production of more of these crops.
"The global market is saturated with many of these commodities so there's no need to import or export more," Dalhstead said.
Farmers who are feeling these global pressures are being forced to make tough decisions about how they can cut costs for the upcoming year.
"There's some things that we're going have to do for free this year and that's not something we like doing," Schlagel said.
This season, he will likely not earn enough to cover the costs of operating his combines. "We own our own combines but they might have to work for free again this year just to get the crops out of the ground," he said.
These cuts don't just affect the financial side of the farm business they also affect the personal.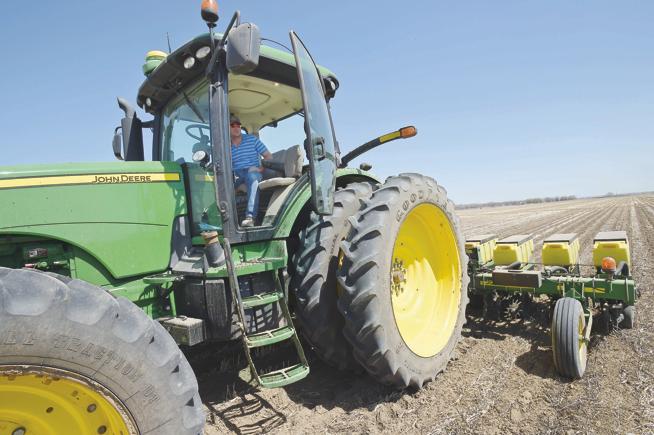 Scott Schlagel plants sugar beets in a 110-acre field south of Longmont Wednesday.
(Lewis Geyer / For the Camera)
"We've actually eliminated one employee. He quit and we didn't replace him and we took one of our farm employees and made him a part time truck driver to try and help mitigate our costs," Schlagel said.
Along with these national pressures, the Front Range is experiencing a couple of unique pressures.
"The economy is beginning to make a rebound and in particular the housing market. We're seeing some real strong growth for real estate and that development is going to push in the face of agriculture," Koontz said, with more farmers opting to sell their land to developers rather than continue to farm at a loss.
The 2012 Census of Agriculture reported that Boulder County had 132,948 acres of farmland. This is down from the 155,488 acres in 1987, a loss of 15 percent.
"I'm not very positive about the issue about development. The hard reality of it is we're going to run out of resources to produce. We need to be producing five times the amount we currently are by 2050. It's not a good," Dahlstead said.
With the growth of real estate comes an additional need for water, which is always a struggle for local farms.
"The snowpack is looking promising this year but it has just been so dry down here that we're going to start running water from the reservoir earlier then we have in a decade," Schlagel said.
One bright spot of 2016 was the larger than expected yields for sugar beets across the state, Schlagel said.
"We're hoping for another good yield this year, that would be really great for us," Schlagel said.
When it comes to finding any short-term solutions to this downturn, Koontz said that there is no silver bullet.
"I don't think there's anything that's going to allow things to be fixed. Farming has always been a hard process and this is how it usually goes. Farmers are going to have to mind their 'Ps' and 'Qs' and figure out how to cut costs," Koontz said.